CSS Animator for WPBakery Page Builder (previously Visual Composer)
17.00 $
Categories: Add-ons, code scripts, Forms, Galleries, Interface Elements, Media, Miscellaneous, Social Networking, Utilities, Widgets, WordPress
Tags: #addon, #css, #slide, animations, animator, Builder, composer, CSS Animation, css animator, fade, flip, Interface Elements, loop, Page, unfold, vc, Visual, visual composer, WPBakery, wpbakery page builder

LIVE PREVIEWBUY FOR ENVANTO $17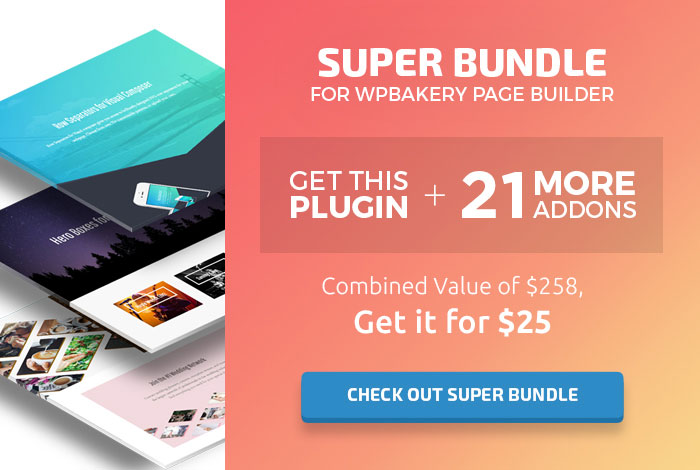 Adicione incríveis animações CSS a QUALQUER tema
CSS Animator é Complemento WPBakery Page Builder (anteriormente Visual Composer) que permite adicionar mais de 40 elementos do WPBakery Page Builder ao seu website WordPress.
Você pode fazer com que seus elementos se desdobrem, gire, gire, gire, deslize elasticamente e muito mais. Você também pode alterar a duração e o pace de início de cada animação para que possa conectá-las para obter efeitos incríveis.
O CSS Animator foi desenvolvido especificamente para fácil uso no WPBakery Page Builder e se encaixa perfeitamente em sua user interface de arrastar e soltar. Adicionar animações CSS é tão fácil quanto arrastar seus elementos dentro de elemento CSS Animator.
Funciona muito bem com qualquer tema
Veja o site de demonstração e abra sua mente para as possibilidades. O site de demonstração mostra todas as animações e recursos disponíveis.
Depois de instalar o CSS Animator, novo elemento estará disponível no WPBakery Page Builder

Selecione e modifique animações na user interface intuitiva do WPBakery Page Builder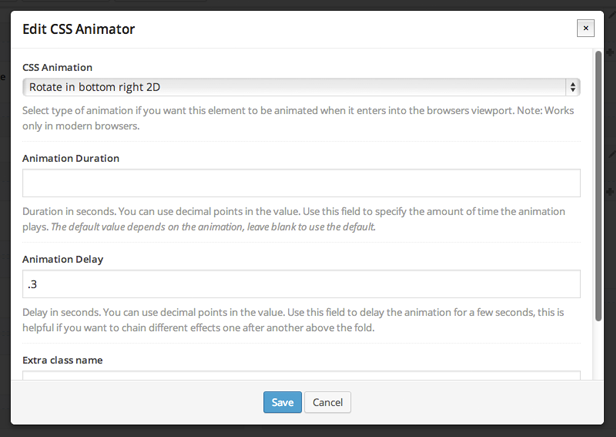 Em seguida, arraste seus elementos para o elemento CSS Animator

E pronto!
Conjunto completo de recursos
Plugin WordPress
Complemento WPBakery Page Builder
40 animações de entrada CSS, para todas as suas necessidades
7 CSS Loop Animations, para chamar a atenção
Anime elementos únicos ou múltiplos
Duração e atrasos ajustáveis ​​da animação
Encadear animações, usando atrasos para efeito máximo
Não incha seu website, apenas o css do grupo de animação usado são enfileirados
Usa quadros-chave CSS para animações, esteja na vanguarda
Integra-se bem com o WPBakery Page Builder
Interface simples
Muito fácil de usar
Inclui campos completos detalhados
Para desenvolvedores de temas ThemeForest WP
Se você quiser incluir isso como recurso em seus temas, o CSS Animator não pode ser incorporado. No entanto, você pode incluir o arquivo zip do plugin em sua versão, desde que adquira uma licença estendida. Não se esqueça de me informar sobre o seu tema para que possamos apresentá-lo aqui!
Está tendo problemas com o plug-in?
Vá para o guia de suporte e verifique as perguntas frequentes ou poste Comente!
Está gostando do plug-in?
Certifique-se de deixar uma avaliação e comentário e nos mostre seu amor.
Confira nossos outros complementos do WPBakery Page Builder



Atualizações
Versão 1.8.1 – 14 de junho de 2019
* Fixed computer animations not being played in WPBakery 6.x+
Versão 1.8 – 21 de março de 2018
* Removed Gambit food selection & guidelines
* Cleanups
Versão 1.7 – 26 de junho de 2017
* Standards solutions as well as innovations, consisting of serpent situation solutions, as well as much more.
* Simpler mobile discovery regimen
* WordPress requirements
* Added autoupdating of plugin.
Versão 1.6 – 20 de novembro de 2014
* Added compatibility setting for motifs that greatly change WPBakery Page Builder as well as damage our plugin (if you are experiencing instances where the CSS Animator does not stimulate in all, allow compatibility setting)
* Added uninstall.php data to tidy up after ourselves when the plugin is erased
Versão 1.5 – 10 de outubro de 2014
* New straightforward Fade In impact
* Added choice to disable in smart phones
* Updated symbol & upgraded symbol to turn up effectively in VC 4.2+
* Minified manuscripts
* Fixed mistakes that made the plugin quiting working in some motifs (e.g. Salient)
* Fixed insect where in IE, some computer animations often missed throughout
* Fixed insect where the plugin quits working when WPBakery Page Builder is not turned on
* Updated with a welcome notification
Versão 1.4
* Fixed backwards compatibility
Versão 1.3
* Now sustains Visual Composer v4.2
Versão 1.2
* Fixed insect where ingrained duplicates of Visual Composer might not fill the plugin effectively
Versão 1.1
* Fixed insect where a Fatal Error protected against the plugin from being turned on
group: wordpress/add-ons
rate : $ 17
hashtags : #CSS #Animator #WPBakery #Page #Builder #Visual #Composer