Subscribe to Unlock Opt In Content Locker WordPress Plugin
15.00 $
A maneira mais fácil de aumentar seus assinantes organicamente, bloqueando conteúdo específico em seu website !!
Como o nome explica, Inscreva-se para desbloquear é plugin WordPress costs que torna mais rápido e fácil capturar assinantes diretamente do seu website WordPress, simplesmente bloqueando algum conteúdo específico do seu website até que os usuários se inscrevam no seu website. Você pode até bloquear a página inteira com pop-up ou fazer uma contagem regressiva aos usuários até que eles possam visualizar o conteúdo sem se inscrever.
Você pode criar formulários de armário ilimitados, escolha format deslumbrante de nosso 10 modelos lindamente pré-desenhados, conecte os formulários diretamente a serviços populares de assinatura de terceiros, como Mailchimp e contato constante, assinantes de exportação e o que não. Com este plugin, você está a apenas alguns segundos de coletar os assinantes do seu website WordPress porque criar e integrar formulário de assinatura em qualquer website é muito fácil com nosso plugin.
Nova versão lançada
Confira nossas demonstrations
Mecanismo de bloqueio
Mecanismo de desbloqueio
Veja a lista completa de recursos abaixo: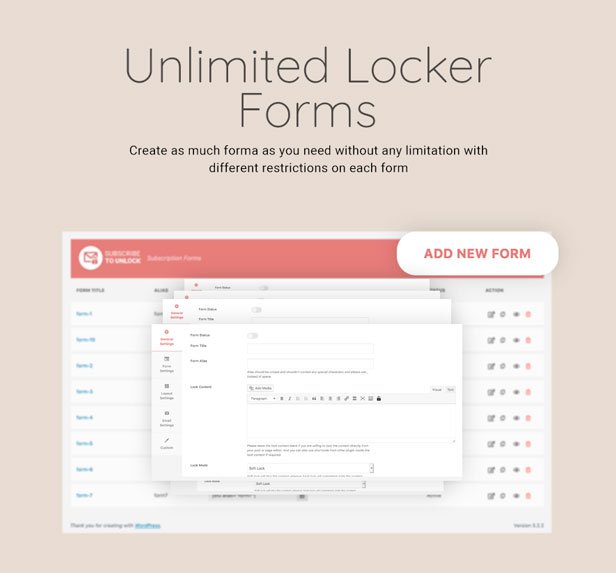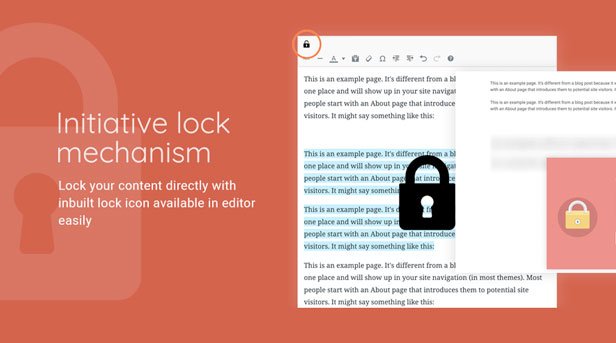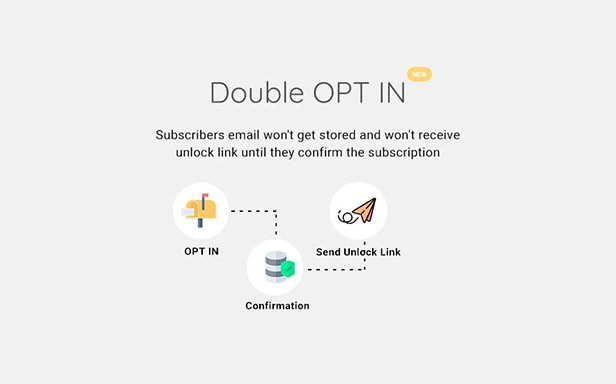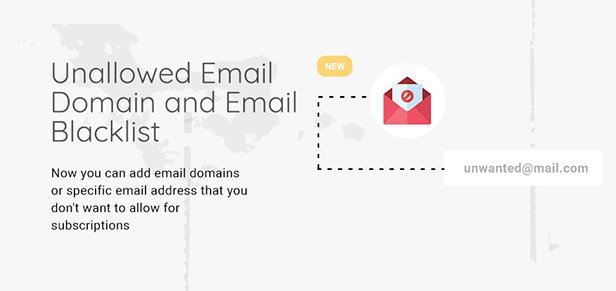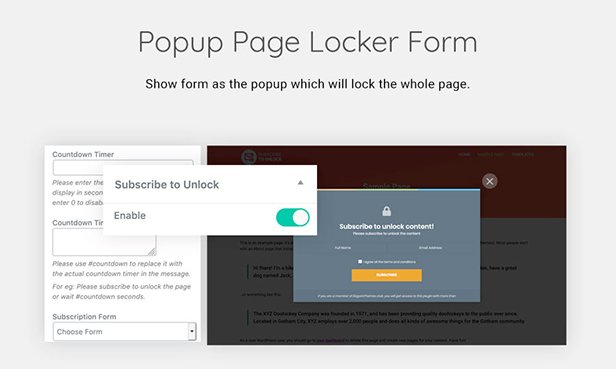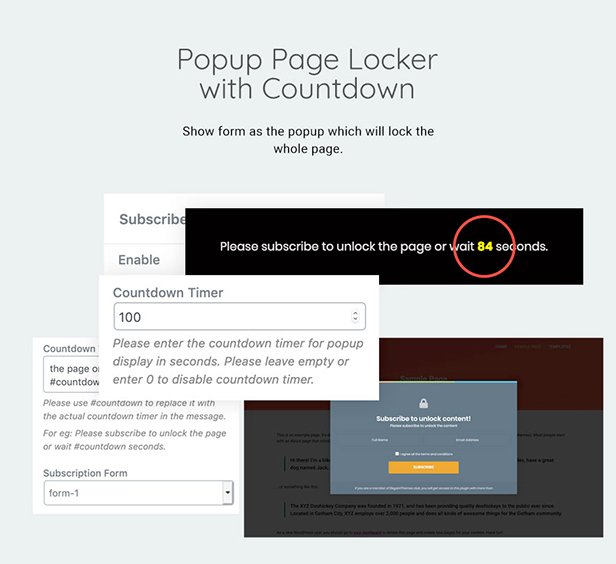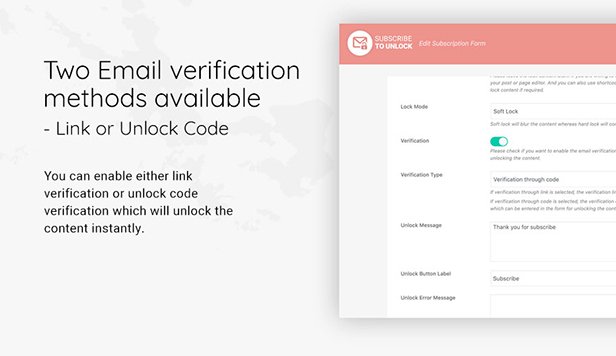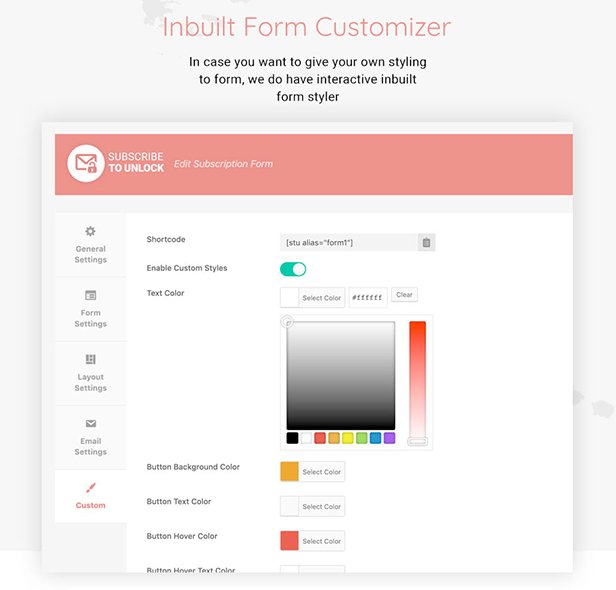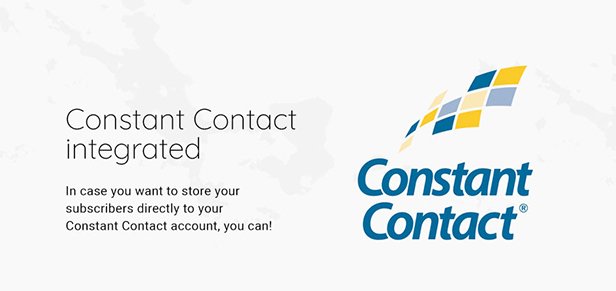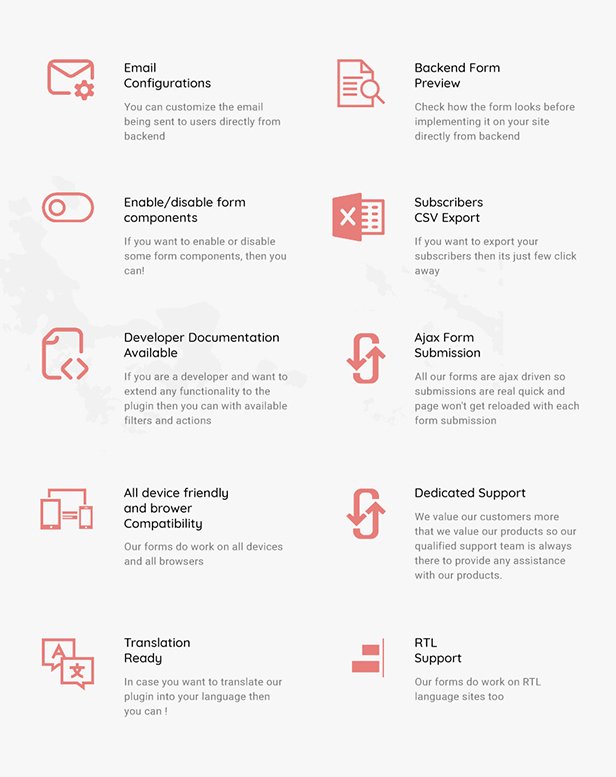 Formulários de armário ilimitados
– Crie tantos armários com diferentes restrições e diferentes conteúdos de armário em cada formulário
10 modelos de formulário de armário pré-projetados
– Escolha qualquer dos belos modelos pré-concebidos sem qualquer carga de criação de formulários em seu próprio
Mecanismo de bloqueio de iniciativa
– Bloqueie seu conteúdo diretamente com o ícone de cadeado embutido disponível no editor facilmente
Bloqueio de página pop-up
– Mostrar formulário de bloqueio como o pop-up que bloqueará a página inteira
Bloqueio de página pop-up com contagem regressiva
– Mostre uma contagem regressiva em seu armário de conteúdo pop-up para torná-lo mais interessante
Dois modos de armário – Hard e Soft Lock
– Mostre o conteúdo como desfocado ou oculte o conteúdo completamente, a escolha é simplesmente sua !!
Dois métodos de verificação de e-mail disponíveis – Link ou Código de Desbloqueio

– Você pode ativar a verificação do web link ou desbloquear a verificação do código, o que desbloqueará o conteúdo instantaneamente
Mailchimp e Constant Contact integrados
– Caso queira armazenar seus assinantes diretamente em sua conta Mailchimp ou Constant Contact, você pode!
Customizador de estilo de formulário embutido
– Caso você queira dar seu próprio estilo à forma, temos um estilizador de formulário integrado interativo
Configurações de Email
– Você pode personalizar o e-mail enviado aos usuários diretamente do back-end
Ativar desativar cada componente do formulário
– Se você deseja habilitar ou desabilitar alguns componentes do formulário, você pode!
Envio de formulário Ajax
– Todos os nossos formulários são orientados a Ajax para que os envios sejam muito rápidos e a página não seja recarregada a cada envio de formulário
Exportação de CSV de assinantes
-Se você deseja exportar seus assinantes, basta apenas alguns societies.
Visualização do formulário de back-end
– Verifique a aparência do formulário stakes de implementá-lo em seu website diretamente do back-end
Compatibilidade com todos os dispositivos e navegador
– Nossos formulários funcionam em todos os dispositivos e navegadores
Documentação do desenvolvedor disponível
-Se você é desenvolvedor e deseja estender qualquer funcionalidade ao plugin, então você pode com os filtros e ações disponíveis
Suporte Dedicado
– Valorizamos mais os nossos clientes do que os nossos produtos, por isso a nossa equipa de suporte qualificada está sempre disponível para prestar qualquer assistência com os nossos produtos.
Pronto para tradução
-Se você quiser traduzir nosso plugin para o seu idioma, então você pode!
Avaliações de Clientes

Apoiar
Log de Mudanças
Versão 1.1.7
Fixed activation concern

Versão 1.1.6
Individual storage locker lock unlock capability included
Pagination as well as search included backend clients checklist
Fixed locker overlay format concern
Added filter hook for unlock code 
Display Type choice included for index web page storage locker

Versão 1.1.5
Fixed straight tons popup unlock concern dealt with
Versão 1.1.4
Fixed popup with hold-up unlock concern dealt with
Versão 1.1.3
Added popup tons with hold-up capability

Versão 1.1.2
Fixed CSV export concern

Versão 1.1.1
Added Don't bear in mind e-mail attribute

Versão 1.1.0
* Loaded google typefaces in your area
* Added js check of unlock for cache bypass
* Fixed reduce include concern in setups shop

1.0.9
Update admin food selection slug for include membership kind web page
Fixed difficult lock as well as soft lock choice choose in admin

1.0.8
Fixed verification subject concern
Fixed couple of translation message domain name concerns
Added support web links for all the web links sent out in e-mail

1.0.7
Added index web page securing choices in added setups
Replaced worldwide $post with worldwide $wp_query for web page as well as article popup storage locker

1.0.6
Fixed tinymce frontend packing concern

1.0.5
Fixed tinymce frontend packing concern

1.0.4
Added 10 New Templates
Added Email Blacklist Option

1.0.3
Added Redirection choice after effective confirmation
Added unsubscribe web link generation capability
Added immediate unlock for currently subscribed individuals when checked out from various web browsers.

1.0.2
Added unallowed domain names include choice
Added dual opt-in confirmation attribute to follow Europe GDPR membership plan

1.0.1
Fixed RTL CSS
Fixed header currently sent out mistake while opening
Fixed translation concerns

classification: wordpress/newsletters
cost : $ 15
hashtags : #Subscribe #Unlock #Opt #Content #Locker #WordPress #Plugin