35.00 $
Categories: code scripts, Themes, WordPress
Tags: buzz, buzzfeed, guess, Maker, OnionBuzz, personality, playbuzz, quiz, Quiz Builder, quizz, quizzes, story, tests, trivia, viral, viral content, WordPress, wordpress quiz, WordPress Themes
Crie o BuzzFeed como questionários em seu website ou blog site WordPress. O plug-in OnionBuzz permite adicionar conteúdo viral responsivo e de layout atraente usando códigos de acesso ou tipos de postagem personalizados. É fácil de usar e funciona com qualquer tema WordPress!
Hoje em dia, nada é tão compartilhável quanto bom teste. Os questionários são a melhor maneira de envolver seu público e também oferece muitos benefícios para proprietários de websites WordPress. As pessoas passam pace interagindo com questionários porque é divertido e emocionante. Como resultado, eles gasta muito pace em seu website.
Apesar de OnionBuzz ser projetado para entretenimento, este plugin também é uma ótima ferramenta para a criação de vários testes de conhecimento. Verifique o conhecimento do seu público sobre vários tópicos, incluindo geografia, idiomas, culinária e outros.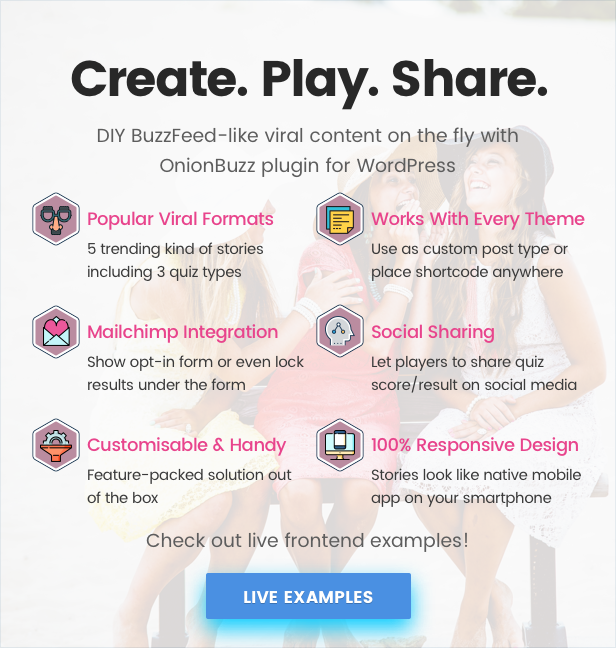 Características
Tipos de postagem populares – Tipos de test de curiosidades, personalidade e lista de verificação, listas e listas classificadas, flip cards. Em breve mais!
Feeds (categorias) – Crie quantas categorias você precisar. Adicione-os como widget para filtragem de conteúdo.
Entre os melhores – Exibir widget atraente Trivia Leaderboard. Envolva seu público para competir e passar mais pace em seu website.
Botões de compartilhamento – Compartilhe a pontuação do questionário com amigos em redes sociais populares.
Reúna assinantes – Adicione e customize o formulário de aceitação do Mailchimp usando as configurações do plugin. Você pode até bloquear os resultados do questionário no formulário!
Armário social – Força para compartilhar questionário em redes sociais para desbloquear os resultados do questionário.
Propaganda – Misture suas histórias com o AdSense, banners de imagem ou anúncios de código personalizado. Diferentes locais de anúncios estão disponíveis para qualquer necessidade.
Estatísticas do questionário – Aprenda mais sobre os jogadores e cada jogada usando estatísticas internas de back-end.
Tipos de respostas para questionários – Lista, quality (1-4 por linha), correspondência (apenas Curiosidades).
Opções de integração – Use como feed de plugin nativo ou / e installed test com shortcode.
Widgets WordPress – Para seus feeds e histórias.
Design bem pensado – OnionBuzz foi projetado para a melhor experiência com qualquer tema bem codificado. Além disso, customize as cores da IU para corresponder ao seu website sem codificação.
Layouts de questionário – Exibir questionário como lista completa ou controle deslizante compacto com uma pergunta por tela.
Ordem de perguntas – Exibir a ordem das perguntas definidas pelo usuário ou aleatórias.
Opções pós-resposta – Permite exibir o conteúdo da resposta correta após o jogador fazer a escolha ou manter a intriga.
Pronto para tradução – Use Loco Translate ou ferramentas semelhantes para traduzir o plugin para o seu idioma. Então você pode enviar arquivos de tradução para nós!
100% responsivo – Divirta-se jogando OnionBuzz em qualquer dispositivo!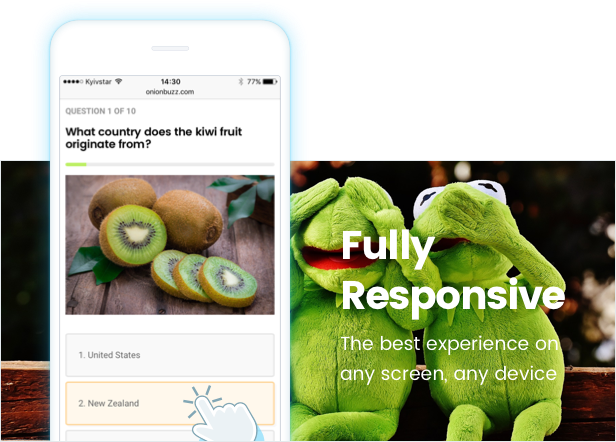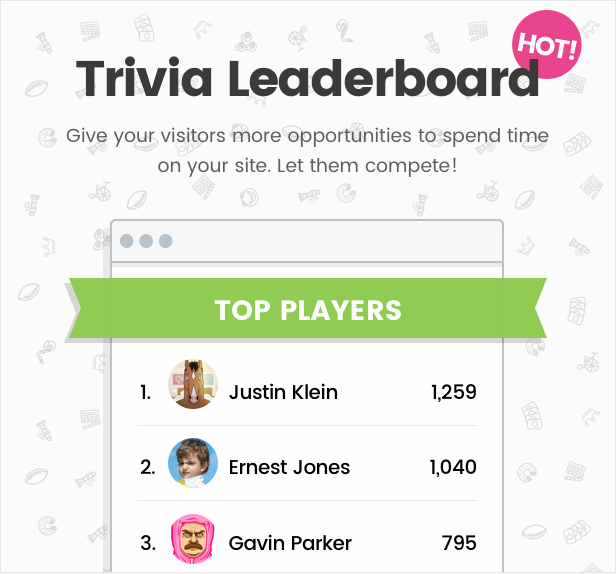 Códigos de acesso do WordPress
Usando códigos de acesso com postagens de blog site do WordPress, você precisa adicionar imagem em destaque, título e descrição para a postagem. Enquanto com os tipos de postagem personalizados nativos do OnionBuzz, você só precisa preencher a história. As vantagens dos códigos curtos são que você pode adicionar histórias em qualquer lugar do seu website. Mas com os recursos de plug-in nativos, você tem menos preocupações com a formatação. E o melhor é que ambos os métodos funcionam bem juntos em website.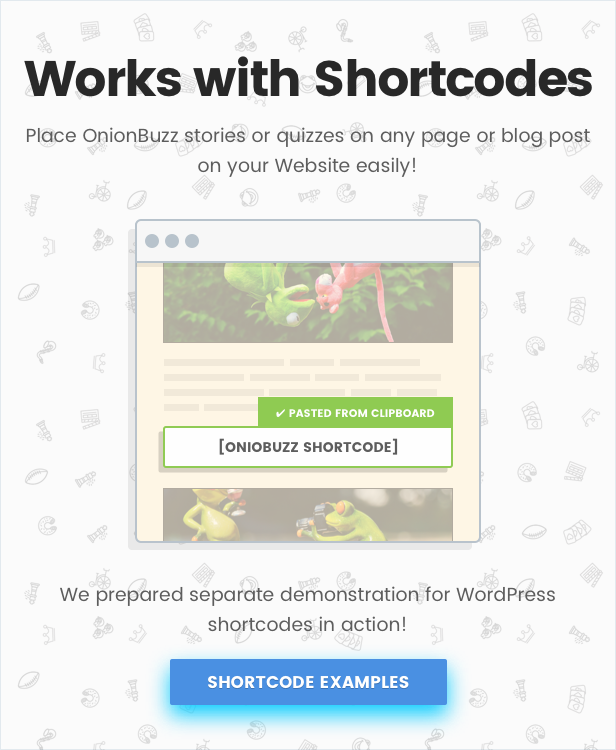 Ferramentas de advertising and marketing
O OnionBuzz permite não apenas criar um incrível conteúdo viral para o seu website. Você pode usar o plug-in para atingir seus objetivos de advertising and marketing e negócios. Expanda seu website em todas as direções possíveis, obtenha mais assinantes, compartilhe, melhore as métricas do website e muito mais. O OnionBuzz realmente ajuda a fazer seu website funcionar e aumentar os lucros!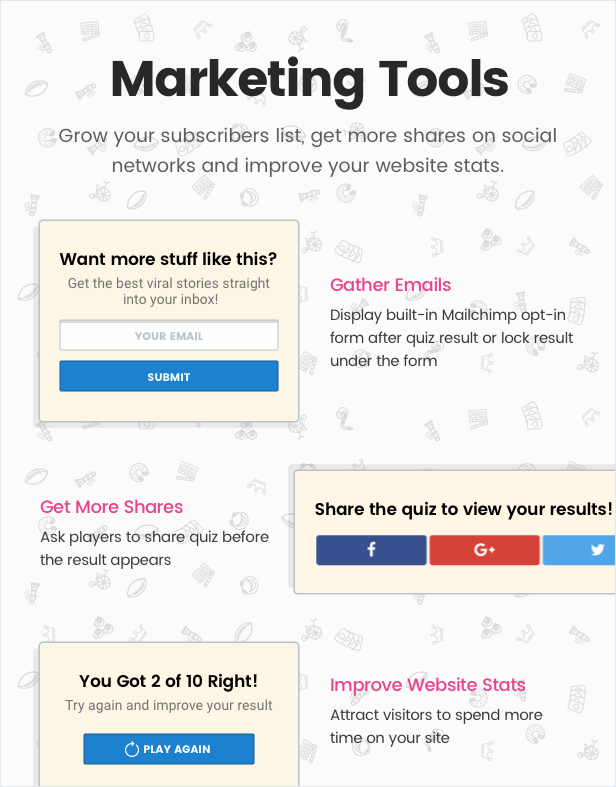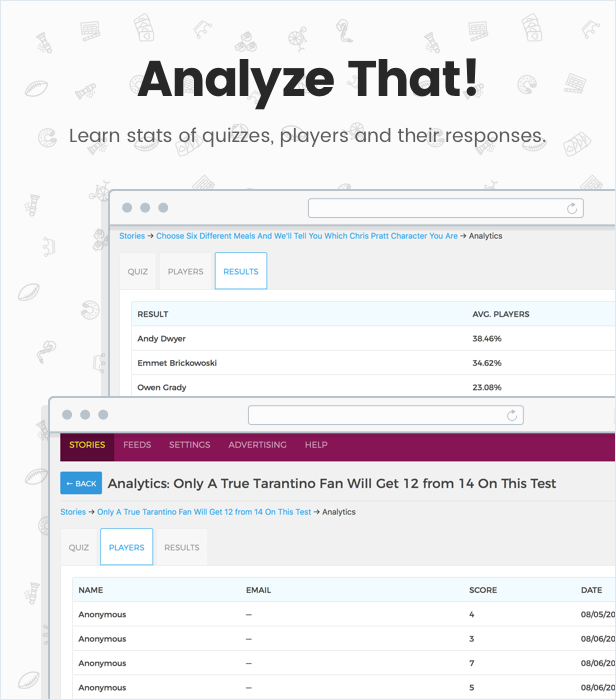 Propaganda
É fácil anunciar ou executar campanhas de advertising and marketing com o OnionBuzz. Armazene anúncios do AdSense, banners de imagem ou qualquer anúncio de código personalizado. E decida onde exibir seus anúncios. Fácil como 1, 2, 3!
Localizações de anúncios
Depois de cada história
Antes de cada história
Na área de resultados de questionários
Após cada X perguntas do questionário ou itens da história (por exemplo, 'itens' significam itens da lista em listas classificadas ou assim)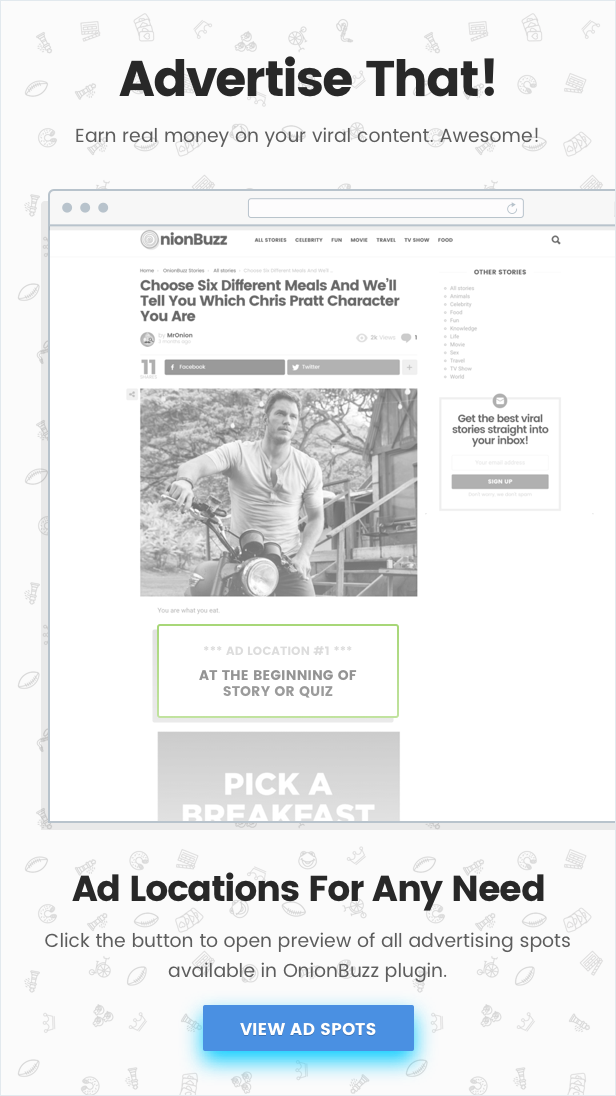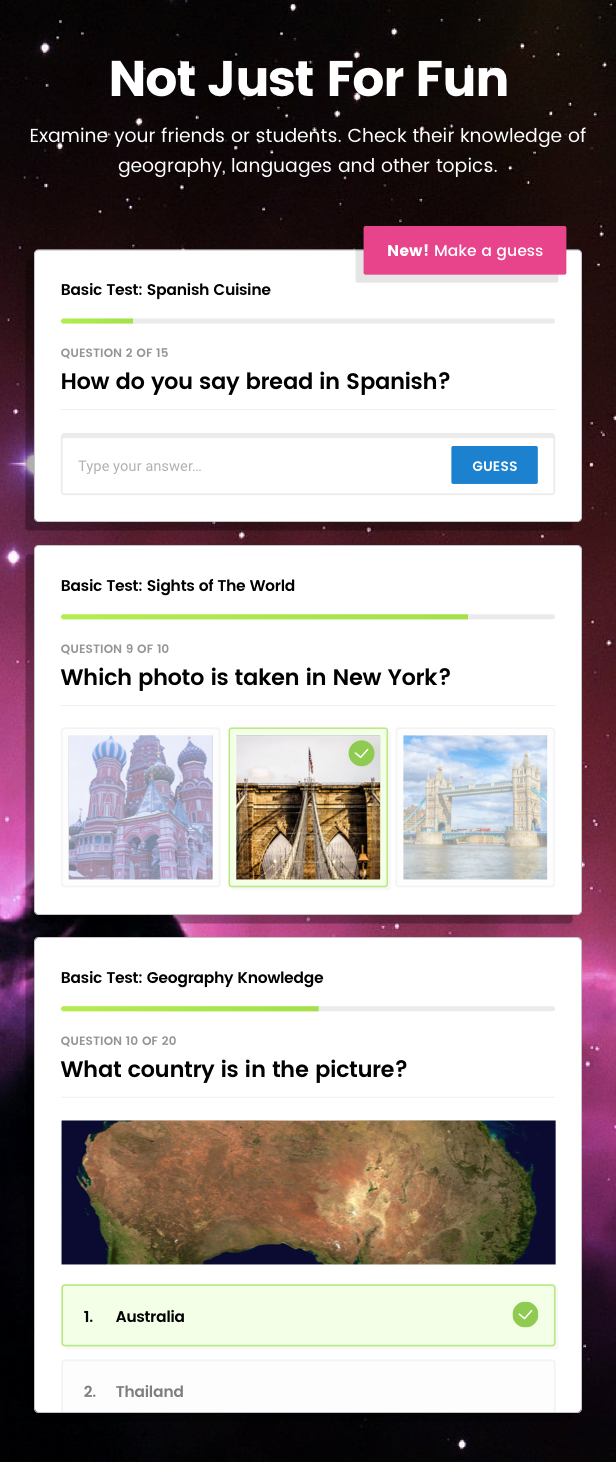 Requisitos e limitações
Apenas shortcode por página é permitido. No entanto, não há limitações para os tipos de postagem personalizados.
Facebook não permite compartilhar personalizadas título, descrição e imagens desde Graph API 2.9. Então, é NÃO é possível compartilhar os resultados do questionário no Facebook desde 17 de julho de 2017. O que significa que os desenvolvedores não podem mais personalizar o sharebox do Facebook. A página do questionário será compartilhada em seu lugar. Enquanto isso, aplicamos uma pequena solução alternativa para que você pudesse compartilhar os títulos dos resultados dentro da caixa de compartilhamento. Captura de tela
Saber mais: Anúncio oficial do Facebook
RTL não é suportado atualmente.
Não fizemos testes de compatibilidade multisite.
Changelog
Versão 1.2.7
- Change: Small renovation for protection

Versão 1.2.6
- Fix: PHP notification on frontend sometimes

Versão 1.2.5
- Fix: PHP mistake in admin setups sometimes

Versão 1.2.4
- Fix: Bugs in shortcode showing up sometimes

Versão 1.2.3
- Improvement: Code optimizations
- Fix: Minor insect solutions in admin area
- Fix: Fixed insect in frontend manuscript
- Fix: Fixed disputes with some third event plugins

Versão 1.2.2
Por support atualize todos os resultados do questionário Trivia e Checklist para uma nova escala de%.
- Improvement: Score variety of Trivia and also Checklist results transformed from outright to loved one worths. Update your tests!
- Improvement: Breadcrumb message can be transformed from the setups currently.
- Improvement: Setting for tale slug included.
- Improvement: The limitation on size of the tale title is eliminated.
- Improvement: Contributors have accessibility to plugin currently.
- Fix: Fix for feasible concerns with OnionBuzz data source encoding.
- Fix: 'Score:' string included for translation.

Versão 1.2.1
- Feature: Trivia Leaderboard widget
- Improvement: More backend statistics for tests
- Fix: Some advertisements can not be conserved

Versão 1.2.0
- Feature: Advertising! Add AdSense, photo banners or custom-mades advertisements to your tales
- Feature: Backend data for tests
- Improvement: '1 per row' choice included in Grid format.
- Improvement: Workaround for Facebook results sharing according to Graph API 2.9 adjustments.
- Improvement: When addressing last concern in Slider setting last response's description is not instantly changed with outcome any longer.

Versão 1.1.6
- Feature: Force to share test to open outcome
- Fix: TinyMCE compatibility small solutions

Versão 1.1.5
- Fix: Issue with tinyMCE editor stopping tales to be conserved
- Fix: Autoscroll currently operates in Firefox
- Fix: Issue with upvote switch in Ranked Lists

Versão 1.1.4
- Improvement: Design solutions and also optimizations for smart devices
- Fix: Minor solutions and also renovations in admin

Versão 1.1.3
- Feature: New type of tales: Checklist
- Feature: Translation assistance for tales frontend
- Improvement: You can currently share Trivia rack up also if no outcome was included admin
- Improvement: More practical admin panel with overview web links and also extra cautions for much better UX
- Improvement: Design fine-tunes for much better compatibility with various styles
- Improvement: Easier tale sneak peek from Stories checklist in admin
- Fix: Results rack up estimation concern in Trivia
- Fix: 'Null' point on sharing 'vacant' cause Trivia
- Fix: Tags eliminated from outcomes sharing message

Versão 1.1.2
- Feature: Advanced editor for summaries
- Improvement: Lists order kind included "by votes" 
- Improvement: Shortcodes are currently allowed tale summary
- Fix: Endless result loading
- Fix: Issue when concerns provide web page disappointed in admin
- Fix: Various backend and also frontend solutions

Versão 1.1.1
- Fix: Shortcodes currently service solitary web pages
- Fix: "Wrong!" enhancement to the title description was eliminated from Trivia Match
- Fix: PHP cautions in admin panel
- Fix: Custom CSS in Settings area
- Fix: Wrong web links in admin panel

Versão 1.1.0
- Feature: New type of tales: Lists and also Ranked Lists
- Feature: New type of tales: Flip Cards
- Feature: New response kind for Trivia: Match (make your assumption!)
- Feature: OnionBuzz Recent Stories widget
- Improvement: More choices for response description: title, photo
- Improvement: Various admin UI solutions and also renovations
- Improvement: Various frontend layout solutions and also renovations
- Fix: Slider navigating switches
- Fix: Correct responses currently highlights if incorrect response was selected

Versão 1.0.0
- Initial launch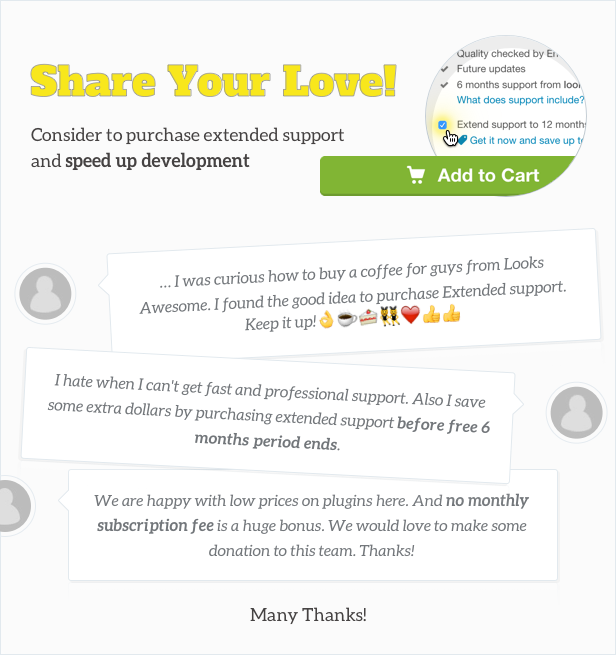 Você pode gostar:
Superfly – Plugin de Menu WordPress Responsivo
Flow-Flow – Plug-in de fluxo social do WordPress
classification: wordpress/media
rate : $ 35
hashtags : #Viral #Quiz #Maker #OnionBuzz #WordPress